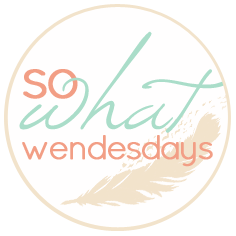 It's So What Wednesday over at Life After I Dew and I'm linking up! This week I am saying SO WHAT if….
~I often wonder if bloggers, or just moms in general, drink as much wine as they say they do.
~Still dig Dorothy Hamill's hair. Man I wish I could pull that off.
~I haven't picked my March Madness brackets yet because I need to do some more "research". As if that is going to help my chances.
~I want to donate money to the Post Office so that they can upgrade their software. Every tried to ship something internationally? Dude, plan on packing a lunch.
~I still have not done anything about WB's first birthday.
~I think Lindsay Lohan looks good in her latest mugshot.
~All the talk this week of BlissDom doesn't have me the least bit jealous I am not (and likely ever will) attending. Me and 3 girls I knew "from the internet"(*) in one hotel room for the weekend? I think not.
~I had to call my mom to get instructions on how to make corn on the cob yesterday.
~I almost screamed out loud (aloud?) when I got an e-mail from PopSugar asking if they could use my Easter Egg Wreath picture for a slideshow.  F yes you can!
That's it from here. What are you saying so what to this week?
(*) I've clearly watched a few too many Datelines, but what if someone was a crazy killer?